roughing it retro style
BY terry tomalin (december 31, 2009)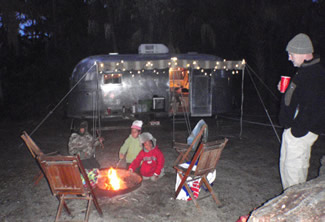 After the kids get their fill of the campfire, a vintage 1954 Airstream serves as a fine warm shelter from a frigid night at Oscar Scherer State Park near Venice.
OSCAR SCHERER STATE PARK
In my family growing up, there were two types of people: those who slept in tents, and those who slept in trailers. We operated on a strict class system. Kids (peasants) stayed outside, while my parents (the royal couple) had exclusive rights to our family's small travel trailer. With one exception. If you were too young to walk, you got to sleep inside. So for a few weeks in the summer of 1961, they called me the Prince of Lake George. While my seven brothers and sisters suffered in squalor, I lived the life of luxury, or at least, that's how I imagine it. But of course, I have no idea. I was 8 months old and barely able to stand, let alone talk. So in the summer of 1962, I was banished to the tent with rest of my siblings, and that is where I stayed for the last 48 years. Until last week.
The silver palace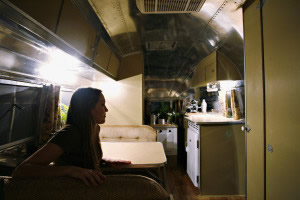 Airstream travel trailers haven't changed much in more than 75 years. Much of this recreational vehicle's across-the-generations appeal is its old-school design. On the outside, the company's original 1931 model doesn't look that much different than one built in 2001.
In the past eight decades, the company has only had five design changes. The last one came in 1996, when the manufacturer widened the trailer from 96 to 101 inches.
Most folks can identify an Airstream by sight. There is no mistaking the familiar silver "airplane fuselage on wheels" as it rolls down the highway. Roughly 100,000 have been built over the years, and 60 percent of those are still on the road.
"We always loved the way they looked," said Nikki Couture, who with her husband, Stephen, now rent vintage Airstreams for those who want a classic camping trip. "They are a real classic."
The Coutures bought a 1956 Airstream Safari for $3,500 then spent another $15,000 restoring it to its original glory. Their company, Silver Bullet Retreats, will deliver and set up an Airstream at one of several Tampa Bay area state parks for less than it would cost to stay in most hotels.
A land yacht
My kids are used to roughing it. From the time they were babies, I've had them camping all over Florida — but always in tents.
The Airstream, with its hardwood floors, canvas awning and khaki cloth curtains, made them feel like they were indeed on safari, though we were only in Oscar Scherer State Park near Venice.
"One rule," I explained. "Take your shoes off inside. I want this to last another 50 years."
The Airstream has a stove, refrigerator and electric lights. When the temperature dropped on one of the coldest nights of the year, they were toasty warm in bed. In the morning, I had to bribe them with hot chocolate to get out of bed.
After two nights in our land yacht, my kids did not want to go home. If there is a downside, I think it will difficult to coax them into a tent again now that they have had a taste of a vintage Airstream.